Apply for Junior Lawyer
Fill this form to Apply for Junior Lawyer
About the Author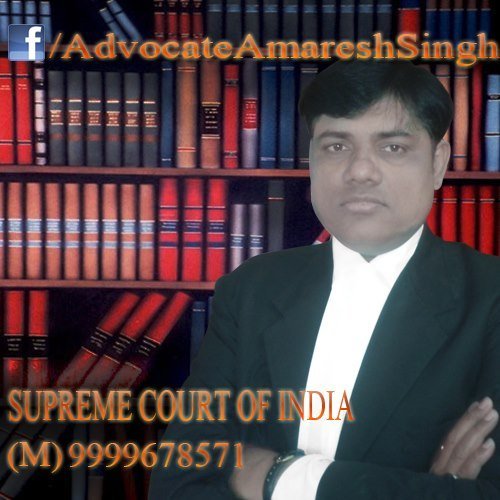 Advocate Amaresh Singh
Supreme Court & Delhi High Court
About
Advocate Amaresh Singh is a qualified legal professional, having obtained his law degree from University of Allahabad, in the year 1999.
Advocate Amaresh Singh is a practicing lawyer in Supreme Court of India, Delhi High Court and District Courts of Delhi including Saket Court, Tis Hazari Court, Patiala House Court, Karkardooma Court, Dwarka Court in the field of Civil, Criminal, Corporate, Industry & Labour Laws, Banking and DRT matters, Intellectual Property Rights (Trademark/Copyright) and related cases.
Experience
Advocate Amaresh Singh has a work experience of 19 years.
Areas of Practice
Criminal Lawyer
Corporate Lawyer
Company Law Lawyer
Industry Law Lawyer
Labour Law Lawyer
Custom, Goods & Service Tax Lawyer
Insolvency & Bankrupty Law Lawyer
Arbitration Lawyer
Employment & Service Law Lawyer
Matrimonial & Divorce Lawyer

Courts of Practice
Supreme Court of India
High Court of Delhi
Saket Courts, Saket, New Delhi
National Company Law Tribunal, Delhi
Tis Hazari Courts, Delhi
Patiala House Courts, New Delhi
Karkardooma Courts, Delhi
Dwarka Courts, New Delhi
Debt Recovery Tribunals, New Delhi
National Consumer Forum, New Delhi
Delhi State Consumer Forum
Central Administrative Tribunals
Custom, Excise & Service Tax Tribunal

Professional Memberships
Supreme Court Bar Association
Delhi High Court Bar Association
Saket Court Bar Association, Saket
Karkadooma Court Bar Association
Tis Hazari Court Bar Association
Patiala House Court Bar Association
Dwarka Court Bar Association
Member of Bar Council of Delhi